Volume Indicators
Selecting this option will display the volume with a moving average for the volume at the bottom of the screen. To select this option select Volume from the Indicator Menu.

You will also notice that a moving average line is charted along with the volume. The moving average for volume is used by some investors to help to determine if interest in an equity is increasing. If volume is rising along with price, it is a good sign of a continuing trend in the prevailing direction.

For Commodities and Options open interest is plotted in dark blue at the bottom of the screen with volume.

The duration of the moving average for volume can be maintained through the Equity Master Maintenance routine.

At the bottom of the screen you will notice the letters TSO and a number following it. This is the Total Number of Shares outstanding for the issue.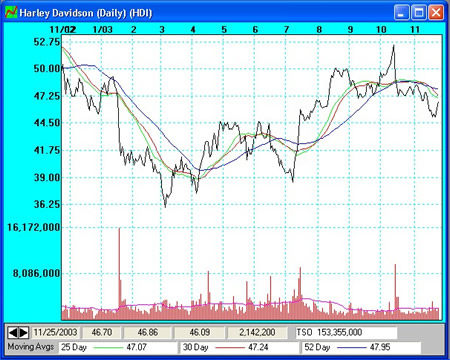 Back to Stock Indicators