Japanese Candlesticks
This is the method used by the Japanese for charting since the year 1750, which is when the Japanese were starting to trade rice futures. The Japanese Candlesticks may be viewed by selecting it from the Indicators Menu. The other two options for charting price information is the High Low Line Chart and the Chart Stock Closing Price
You will see by viewing the chart where the Candlestick name comes from. The price movement is represented by what looks like a candlestick. The wicks or shadows on either end of the candle represent the High and Low for the day. The body of the candle represents the opening (or the previous days close) and the closing price. An up day is represented by a hollow or white candle, while a down day is represented by a solid or black candle. On trading days that gap up from the previous days trading the low will represent the bottom of the candle conversely on days that gap down the high will represent the top of the candle.
The Chart below also contains Stochastics.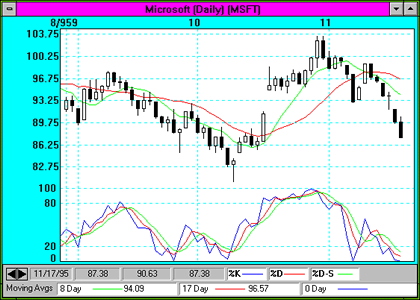 There are a number of charting patterns to look for when interpreting the Japanese Candlestick charts.
Engulfing Patterns
Piercing Line
Dark Cloud Cover
Hanging Man
Hammer
Tweezer Bottom
Tweezer Top
Doji Star
Shooting Star
Morning Star
Evening Star
Upside Gap Two Crows
Harami Lines
Harami Cross
Back to Stock Indicators